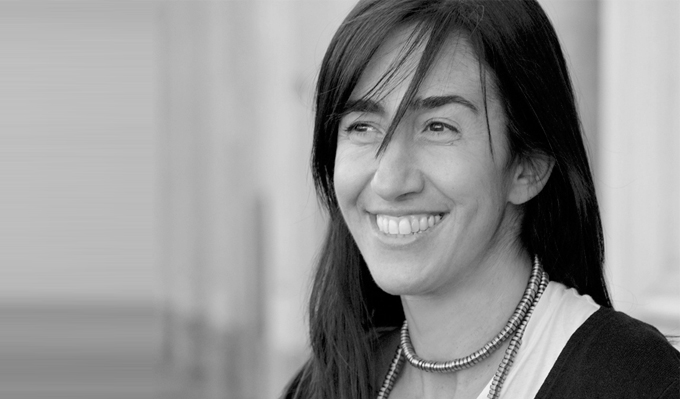 Tiziana Redavid was born in Turin where she became an architect in 1995 studying with Jean Nouvel.
This is one crucial step for her future projects.
In 1994 she works as Elio Luzi's assistant at the Politecnico in Turin.
Curious, sensitive and enthusiastic, Tiziana is conquered by the work of three major Italian artists: Gilberto Zorio, Giuseppe Spagnolo and Marco Gastini.
She moves to Paris permanently in 1996 and creates the brand la mollla used for her first collection of stainless steel jewellery made with coils produced in industrial processes.
Thanks to the next collections she designs, she receives some awards, her name appears on several magazines and some of the most renowned design shops around the world buy her jewellery, such as the MoMA's bookshop in New York, the MoMA in San Francisco, the V&A Museum in London and  the Museum of Decorative Arts in Paris where her jewellery are part of the permanent collection.
Understanding the industrial process, focusing on new materials and working with, artisans as well as designers are the groundwork  to create her new line of coloured fibreglass bracelets with skilfully added magnets.
While designing jewellery collections, she also continues to work as an Architect and in 2005 she open her studio in Paris called TRA (Tiziana Redavid Ateliers) which becomes her head office from where she works on international projects, interior design, landscape and urban/industrial architecture.
All her work is based on the architect's idea that 'a project becomes real only through a dream'.
In 2006 Tiziana creates "Cip Cip", a charming coat stand in a shape of a tree and entirely made of fibreglass.
In the same material she also designs "Formine", a set of modular and stackable seating.
This work emphasises her idea of form and function being inseparable in every object. In July 2009 Tiziana's creations are exhibited at the prestigious modern art institution "Fondazione Sandretto Re Rebaudengo" during the "Locale Design Shop" show in Turin
At the beginning of 2010 she designs a permanent installation placed on the roof of the Fondazione Bottari Lattes building in Monforte d'Alba.
Once again Tiziana chooses fibreglass to design "egg" which at the same time contains and envelops but also allows ideas art and creativity comes out.
She currently lives between Paris and Turin where she carry out a project of recovering and renovation of a historical building.
© CREDITS PEPE FOTOGRAFIA